2019 HCDA Economic Activity Snapshot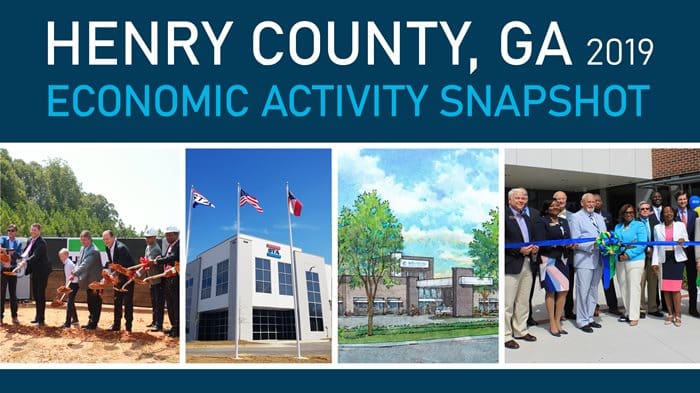 2019 was another great year for growth and development in Henry County, Georgia! The Henry County Development Authority (HCDA) welcomed several new companies and helped established businesses to expand their footprint.
ECONOMIC GROWTH BY THE NUMBERS
1,042 new jobs
10 new projects and expansions
$109 million new investments
100 established industry visits
Henry County's robust growth isn't expected to stop anytime soon according to population and employment forecasts released in August 2019 by the Atlanta Regional Commission (ARC). Henry will add 152,000 people by 2050 and reach a population of 370,000.  This 70% growth rate is projected to be the second highest in the 21-county Atlanta region. The Development Authority expects that the county's growing population, along with a greater emphasis on workforce development, will aid Henry in providing the talent pipeline needed to support new and established businesses for years to come.
According to Henry County Development Authority Chairman, Pierre Clements, "HCDA has purposely worked to attract more manufacturing and international companies that can leverage the county's strategic location and skilled workforce to accomplish their business objectives."
Already home to a number of advanced manufacturing companies, including Alpla, Luxottica, and Southern States, Henry County is poised for expansion in the industry. One of the newest additions to Henry's Advanced Manufacturing cluster is Sangsin Technology America. Governor Brian P. Kemp announced in March 2019 that Sangsin, a leading global brake friction materials and replacement parts manufacturer, will create 200 jobs and invest $20 million in its first North American manufacturing facility in McDonough, Georgia. Sangsin manufactures friction products for both domestic and overseas companies in more than 90 countries and is now Korea's largest brake manufacturer.
Henry County residents and visitors enjoy some of the finest healthcare services in the Atlanta region and those services are further expanding with the addition of Encompass Health Corp. Encompass announced plans in August 2019 to build a 50-bed inpatient physical rehabilitation hospital in Henry. The hospital is expected to start providing services in the third quarter of 2021 and will feature a large therapy gym, advanced rehabilitation technologies, an activities of daily living suite, cafeteria and dining room, pharmacy and courtyard.
Just minutes from Atlanta and the Hartsfield-Jackson Atlanta International Airport, the most traveled airport in the world, Henry County is a destination for global commerce with foreign based companies like Luxottica, Alpla and now HEGLA Corporation. HEGLA, an international German based corporation, chose Stockbridge, GA as the site of its next manufacturing plant in August 2019. With over 42 years in business, HEGLA provides forward-looking system solutions for the cutting and processing of flat, automotive and functional glass. The Stockbridge location will create 21 new jobs at the initial opening of the facility and increase employment to 50 positions within 2 years.
These 3 projects are just a sampling of Henry's recent economic success. HDCA assisted 10 companies in 2019. Representing various industry sectors, these new and established industries will employ more than 1,000 people. Looking ahead to a new year and new decade, the Development Authority expects to see continued growth in industry sectors such as Advanced Manufacturing, Professional Services, Healthcare and Logistics.
"2019 was another strong year for our community for business growth and we would like to thank our new industries for choosing Henry County. One of our best marketing points is that our established industries continue to reinvest in Henry County and 2019 was another great year. Henry County is always grateful to businesses who choose Henry. We look forward to another good year in 2020 for Henry County's continued growth and prosperity," stated HCDA Executive Director F. J. "Josh" Fenn.
As the lead economic development agency for Henry County, the Development Authority works to help retain local companies and to foster new relationships and opportunities with companies looking to relocate or grow their operations into Henry County. Learn more and connect with the HCDA team by visiting ChooseHenry.com.