40th Annual Geranium Festival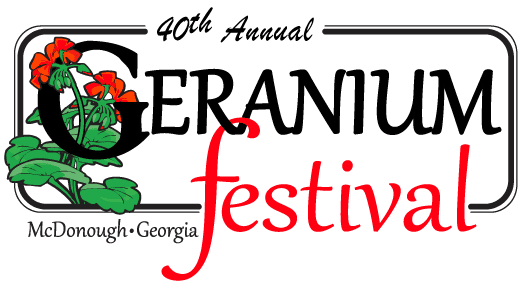 Maybe you've heard of this small, little festival called the Geranium Festival? Okay, okay. Not small at all. In fact, this festival brings thousands (nearly 25,000) to Henry County each year, and is "one of the best festivals in all of Georgia."
This year marks the 40th annual Geranium Festival, and you don't want to miss it! Artisans will be bringing their goods (jewelry, wood crafts, visual arts, clothing, accessories and more) from all over the southeast and will take over the McDonough Square. There will also be a children's play area, many community business booths, and live music.

Some might say the food is the best part of this festival! Some of our favorites will be there…like Shane's Rib Shack with their pork ribs, wings, and chicken tenders, Southern Belle Farm with their homemade ice cream churned with fresh-picked strawberries, and Chick-fil-A with their famous chicken sandwich. Be sure to grab a signature tomato sandwich too, and try out the alligator tails if you dare. Grab a funnel cake or a snow cone for dessert. You definitely won't go hungry!
This free, annual event is sponsored by the McDonough Lions Club, an organization that supports local and international charities through their services. All proceeds from this festival go toward their budget for the year. This 2017 festival is happening May 20th from 9am to 5pm. You can park free at Henry County High School, and take the free shuttle to the festival entrance.
The Geranium Festival is not just a fun, family-friendly, community-focused event, it's truly an experience! (At this point, it's really just a southern tradition.)