Growing Future Leaders in Henry!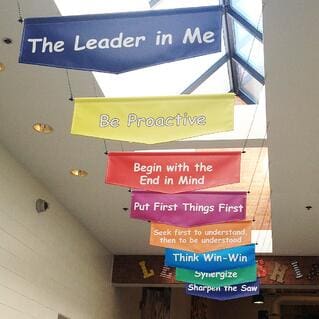 The Henry County Development Authority is a proud partner of the Henry Council for Quality Growth, a broad based membership organization committed to helping Henry County become a better place to live, work, play and do business. Their mission is "to promote an environment that will encourage quality growth in Henry County and lead our community to continued economic prosperity by advocating for fair and sustainable growth and unity in government". They do this in four areas: economic growth, education, transportation, and quality of life.
Their newest initiative in the area of education is a joint project, along with the Henry County Board of Education, called The Leader in Me. They will partner with businesses, parents, and the community for this project. "The Leader in Me" (LIM) is based on the bestselling personal development book by Franklin Covey entitled 7 Habits of Highly Effective People.

"The LIM focuses on elementary school aged children and teaches Dr. Steven Covey's "7 Habits of Highly Effective People" in a format that appeals to younger children," said HCFQG Executive Director Steve Cash. He went on to say this strategy is embedded into the very fiber of the school. "This is not another layer of programs added to an already overburdened school day. This process is integrated into the core values of young elementary school students."
Cotton Indian Elementary in Stockbridge is the first school to launch "The Leader in Me." Cotton Indian Elementary is home to over 700 students and staff and led by Principal Lisa Travis. The school recently had a Kickoff Night, introducing parents to this new program. Parents were entertained by students through drama, dance, and music. They even had the opportunity to write family mission statements together. The school hopes to benefit academically by incorporating this new program!
The Leader in Me program is one of several efforts in Henry Couny to ensure that our community is able to produce a qualified workforce to meet existing and future workforce needs.
For more information on The Leader in Me initiative and K-12 education in Henry County, visit the links below.
K-12 Education in Henry County
Source: Henry Council for Quality Growth