HCDA Welcomes New Officers and Board Member
PICTURED LEFT TO RIGHT – PIERRE CLEMENTS, DAVID GILL AND LEONARD SLEDGE
Consisting of five members, representing the five geographic commissioner districts within the county and its members, the Henry County Development Authority Board of Directors works to promote economic development in Henry County through the attraction of new investment and jobs and the retention and expansion of existing industries.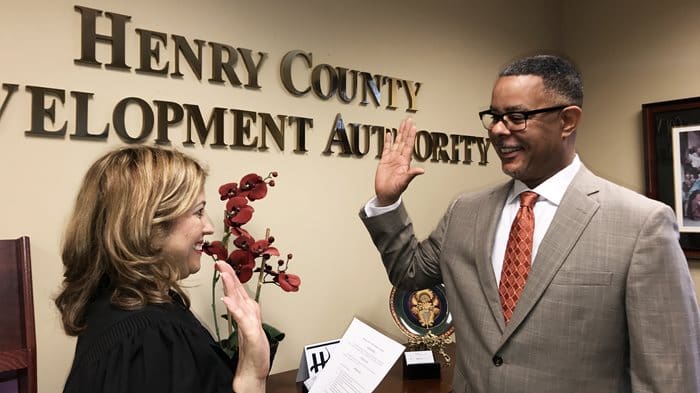 PICTURED LEFT TO RIGHT – JUDGE KELLEY POWELL AND REGGIE SYLVAIN
The Henry County Development Authority welcomed its newest board member as Reggie Sylvain (representing District 4) was sworn in by Judge Kelley Powell, Henry County Probate Court, at the Authority's February board meeting. Sylvain is a seasoned sales management and administrative professional with experience in the food service, medical and commercial real estate industries. He currently serves as President and CEO of RAGS Enterprises, LLC which is a real estate holding company specializing in commercial real estate.  He also serves as the Practice Administrator for Eagles Landing Longevity Center and is a managing partner of Sylvain Evans Funeral Home.
The Authority also recognized past Chairman David Gill for his dedicated service and leadership. Mr. Gill currently serves as President and CEO of the Henry County Chamber of Commerce and has served on the HCDA Board of Directors for a total of 14 years. Sylvain, who was recently appointed to the Development Authority Board by Commissioner Vivian Thomas, will be replacing Gill as the District 4 representative on the HCDA Board.
Elected to serve as HCDA's Chairman for 2019 at the January Board meeting, Pierre Clements, representing District 5, stated that he is "looking forward to providing strong leadership that is essential to foster high levels of collaboration, team engagement, business diversification and economic development growth in a transformational way."
Rounding out the HCDA Board of Directors are Charles Mobley – Vice Chairman (representing District 3), David Linton – Secretary (representing District 2) and Casey Crumbley – Treasurer (representing District1). The HCDA staff welcomes its new and returning Board of Director members and look forward to working with them to bring new business opportunities and investment to Henry County.