Henry Provides Multimodal Transportation Opportunities!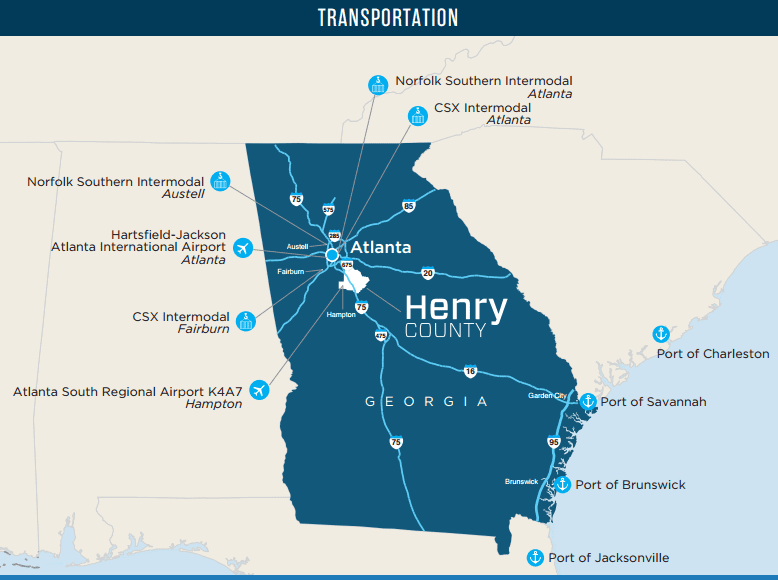 Thirty miles from downtown Atlanta, close proximity to the world's busiest airport, and easy access to interstate highways, national train systems, and global ports, Henry County is ready to connect your business to the world!
Hartsfield-Jackson Atlanta International Airport is less than two hours away by air to 80 percent of the United States, and Henry is just 20 miles away. They recently broke the record of most passengers in one year – one million to be exact. Henry also offers the best Metro Atlanta access to the Port of Savannah, the largest single container terminal in North America!

Interstate 75, one of Atlanta's main arteries that connects as far as Miami to Canada, runs through the heart of our county. The I-75 South Metro Express Lanes Project is currently underway. It begins in Henry County along I-75 south of Atlanta at SR 155 / McDonough Road and ends at SR 138 / Stockbridge Highway, including approximately 12 miles of managed lanes. The project consists of the addition of two reversible express lanes located within the median of I-75, to be managed by a variable priced tolling system. These lanes will be designed to improve traffic flow, increase options for motorists and transit and registered vanpool customers, provide reliable trip times, create jobs and bring economic benefits to the residents of this region!
You may have noticed that the Mt. Carmel Bridge in McDonough is currently shut down in order to construct a new bridge. It is being widened to accommodate the construction of the new I-75 South Metro Express Lanes, which will travel under the bridge. The bridge replacement project will last approximately 9 months, and a detour will be available on Jonesboro Road and Mill Road. This infrastructure improvement project will replace the current bridge built in 1957. It will include wider 14-foot lanes and sidewalks.
Henry County is positioned to serve as metro Atlanta's connector to global transportation and distribution! Looking to relocate your business to Henry? Contact us; we'd love to be a part of your success story!

Source: Georgia Commute Options