Jamal Lewis Promoted to Director, Business Development with HCDA
Jamal Lewis has been promoted to Director of Business Development for the Henry County Development Authority (HCDA). The announcement was made this week by F. J. "Josh" Fenn, executive director of the economic development organization.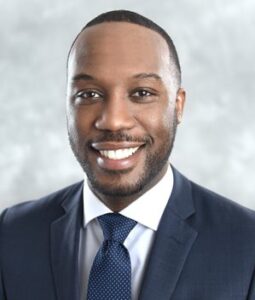 "Since he joined us in 2019, Jamal has been a key member of our team. In 2020, HCDA has been on a record pace for job attraction and investment for Henry County despite a global pandemic and national recession. His hard work was a key factor in this success and we are looking forward to this continuing in his new role with us," stated Fenn.
Lewis currently serves as Project Manager, Business Development for the HCDA. He is responsible for developing growth opportunities in the areas of professional services and manufacturing for the County. He joined the Development Authority in 2019. Since joining the development authority, he has worked on many key projects and assumed the marketing responsibilities for the organization. Prior to joining HCDA, Lewis served as a Project Manager with the Georgia Department of Economic Development based in Atlanta. He joined the department in 2016 as Marketing Services Manager and was promoted to Project Manager with the Global Commerce Division's Corporate Solutions and Cyber Security Team.
Other positions held by Lewis include marketing manager, Coles College of Business at Kennesaw State College and owner of Billionaire Nation Marketing in Atlanta. He received his undergraduate degree in Sports Management and Marketing (2008) and Masters of Public Administration (2017) from Kennesaw State University.
"I have enjoyed being a part of a winning team and the success of the Development Authority over the past year. We have been extremely fortunate to experience record growth during the COVID-19 pandemic," said Lewis. "I look forward to continuing the attraction of skilled jobs and investments for our community. Henry County is well positioned in Metro Atlanta to sustain economic growth for years to come."
Members of the development authority include Chairman Pierre Clements, Vice Chairman David Linton, Secretary David Crow, Eddie Ausband, and Irv Culpepper. Rod Meadows of Meadows, Macie & Sutton PC serves as legal counsel for the organization.
Other members of the authority's professional staff include Trisha Colpetzer, Manager of Established Industry and Terry Collins, Executive Assistant.
Recent successes for Henry County include locations for Purple Innovation, Zinus, Ferrero, Radial and expansions by The Home Depot and Ken's Foods. To date in 2020, HCDA has located or expanded 9 companies resulting in 2,640 jobs and $449,900,000 in new investment into Henry County.
About the Henry County Development Authority
The Henry County Development Authority was created in 1967 by a local amendment to the Georgia Constitution. The board consists of five members, representing the five geographic commissioner districts within the county. The mission of the Henry County Development Authority is to promote economic development in Henry County through the attraction of new investment and jobs and the retention and expansion of existing industries.