Join Us For Our June Business Luncheon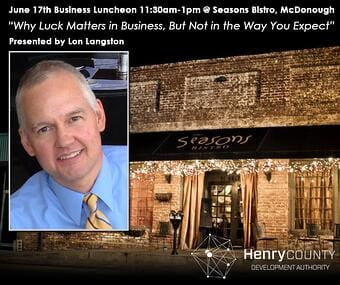 The Henry County Development Authority invites ​the community to attend our ​June Business Luncheon! The first in our series of four business luncheons in Henry County will take place on June 17 at Seasons Bistro from 11:30 AM – 1 PM. The June topic is "Why Luck Matters in Business, But Not in the Way You Expect," and will be presented by Lon Langston. Tickets for the luncheon cost $15 per person, and can be purchased by following the link at the bottom of the page.
​For business owners and managers, the biggest obstacle always seem to be that of not being able to predict the future. Things may not always go according to plan. When it comes to luck, many, such as Thomas Jefferson, Benjamin Franklin, and athletes, have all been attributed as saying "The more I practice the luckier I get."
Langston will discuss how business owners can leverage their good luck, while mitigating their bad luck. Lon spent 16 years in management before launching his own start-up company in 2006. In just five years, he successfully grew his company from zero revenue and zero employees to over $21 million in revenue and 64 employees. This past October, in his company's 11th year, Lon was able to to negotiate a successful sale of his company.
Now, Langston focuses his efforts on helping others achieve significance. Come to our first business luncheon and learn from Langston as he shares his coaching methods and hacks from his 26 years of in-the-trenches experience, as well as his ongoing studies in management, leadership, behavioral economics, and cognitive psychology.

We hope that you will attend our business luncheon, and learn not only from Lon, but from other business owners and professionals​.
For more information about Small Business and Entrepreneur Resources, please follow the link below.