Meet HCDA's New Executive Director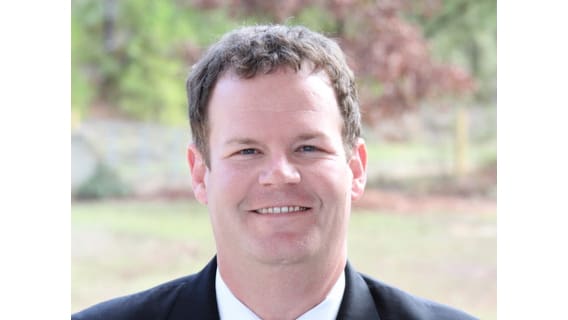 The Henry County Development Authority recently selected Josh Fenn as its new Executive Director. After a comprehensive search conducted by The Chason Group, an executive search firm specializing in economic development, chambers of commerce, tourism, foundations and other non-profit organizations, Fenn came out on top.
"Our goal throughout this executive search process has been to find the most qualified professional in the economic development field that fits the needs of Henry County today and in the future," according to Pierre Clements, Chair of the Authority and district five representative. "Josh has the experience, contacts and knowledge of the industry to move our community forward in terms of diversification of businesses and developing an economic development strategy for the future."
Previously Mr. Fenn was the Director of Business Development for ECS Southeast, LLC. ECS Southeast a division of Chantily, VA based ECS, a leader in geotechnical, environmental, construction materials, and facilities engineering serving over 65 markets in The United States. He also led national account development for the industrial sector for the company.
If you had an opportunity to ask Josh any question, what would it be? Maybe the following are questions that come to mind.
How long have you been doing economic development?
Over 15 Years in Georgia including stints in Jackson, Bryan, Dodge, and Ware Counties. I have served as lead executive for Development Authorities, Chamber of Commerce, and a Downtown Development Authority.

What would you say most motivates you to do what you do?
What I enjoy about my work is the successful impact on others that I will never see directly most times. When you locate an industry or assist in the expansion of an established industry, it provides job opportunities for your fellow citizens. It may be a new job, it may be an entry job, or it may be that next step up for someone. That better wage or benefits package means something and it impacts the long term in a positive way. It also helps the tax base of the community so that the school system and local government have more resources to grow a positive quality of life.

Why did you Choose Henry?
Well first I'm glad the leadership chose me. HCDA is considered one of the strongest development authorities in Georgia, able to win the larger more desired projects. There is a lot of opportunity for positive growth here and some strong success stories in Advanced Manufacturing and Professional Services to grow those sector bases with. I think in a few years Henry will be looked at as a model community for a metro suburb and I am excited to be part of that team.

When you think of the future of Henry County, what do you envision?
I see great opportunity, however my role is to help guide our leadership from making visions become reality.
During his career, Fenn has led efforts in the locations of Industrial projects including Fortune 1000 Firms Alcoa, Williams-Sonoma, Graphic Packaging, and Smurfit-Stone. He has also worked to locate International Firms Haier, Caesarstone and CZM to Georgia. Fenn also led efforts in the relocation for the Headquarters of The Jones Company, one of Georgia's largest privately held firms at the time. Locations he has been involved in have won numerous awards from The Georgia Economic Developers Association (GEDA), National Association of Industrial and Office Properties (NAIOP) and other trade and business associations.
Join us in welcoming Josh Fenn to Team Henry! He is a wonderful addition to our team at the Henry County Development Authority and will be instrumental in the Authority's work to grow Henry's economy and enhance the quality of life for Henry residents.