Piedmont Henry to Build New Patient Tower
For Immediate Release
Contact: Michael Boylan, 404-414-9308 or Michael.boylan@piedmont.org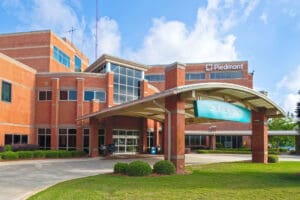 Piedmont Henry to Build New Patient Tower
Stockbridge, Ga. (Sept. 14, 2023) – Recently, Piedmont Henry Hospital received approval from the Piedmont Board of Directors on a $250 million expansion that will transform the hospital's campus and help care for the citizens of a rapidly growing community.
The project will add a new patient tower and will have 95 new/additional inpatient rooms. The hospital's new bed license is for 355 beds. There will be some additional surface parking added, as well as three additional OR suites, giving the hospital a total of 14. The expansion of the OR will provide more access with shorter wait times for high end surgical procedures. The extra patient rooms will also help improve wait times in the emergency department, which is one of the busiest in the Piedmont system.
"We are often at capacity now and this expansion will help us serve our patients, and the community, better," said David Kent, CEO of Piedmont Henry. "We have grown with Henry County, and we will continue to grow to continue providing world-class, patient-centered care to the communities we serve well into the future."
During construction, there are no expected impacts to patient or visitor access at either the North or South Tower lobbies, or the emergency department. There may be some limited disruption to parking. Patients will be asked to arrive a few minutes early for scheduled appointments once construction begins.
"We take the responsibility of caring for our patients and the residents of this community very seriously," said Kent. "We've made a lot of progress over the past few years. In addition to being designated a Level III Trauma Center, we've increased our use of robotic assisted surgery, brought in world-class physicians, and maximized space, both on campus and adjacent, to provide safe, high-quality care. An expansion of this magnitude is the next step for us."
Construction is expected to start in early 2024 and be completed within two and a half years.
###
About Piedmont
Piedmont is empowering Georgians by changing health care. We continue to fuel Georgia's growth through safe, high-quality care close to home through an integrated health care system that provides a hassle-free, unified experience. We are a private, not-for-profit organization that for centuries has lived up to our purpose to make a positive difference in every life we touch in the communities we serve. Across our 1,600 physical locations we care for 3.7 million patients and serve communities that comprise 80 percent of Georgia's population. This includes 22 hospitals, 65 Piedmont Urgent Care centers, 25 QuickCare locations, 1,875 Piedmont Clinic physician practices and nearly 3,100 Piedmont Clinic members.
Millions of patients conveniently engage with Piedmont online, as they visited Piedmont.org and Piedmont MyChart over 30 million times, scheduled more than 515,000 online appointments and over 154,000 virtual visits. With more than 44,000 care givers we are the largest Georgia-based employer of Georgians, who all came for the job, but stayed for the people. In 2023, Piedmont has earned recognition from Newsweek as one of America's Greatest Workplaces for Diversity and also as one of America's Greatest Workplaces for Women. In 2022, Forbes ranked Piedmont on its list of the Best Large Employers in the United States. In addition, Piedmont provided nearly $360 million in Community Benefit in Fiscal Year 2022, including approximately $310 million in uncompensated care.
For more information, or booking your next appointment, visit piedmont.org.