Start your Engines in Henry County!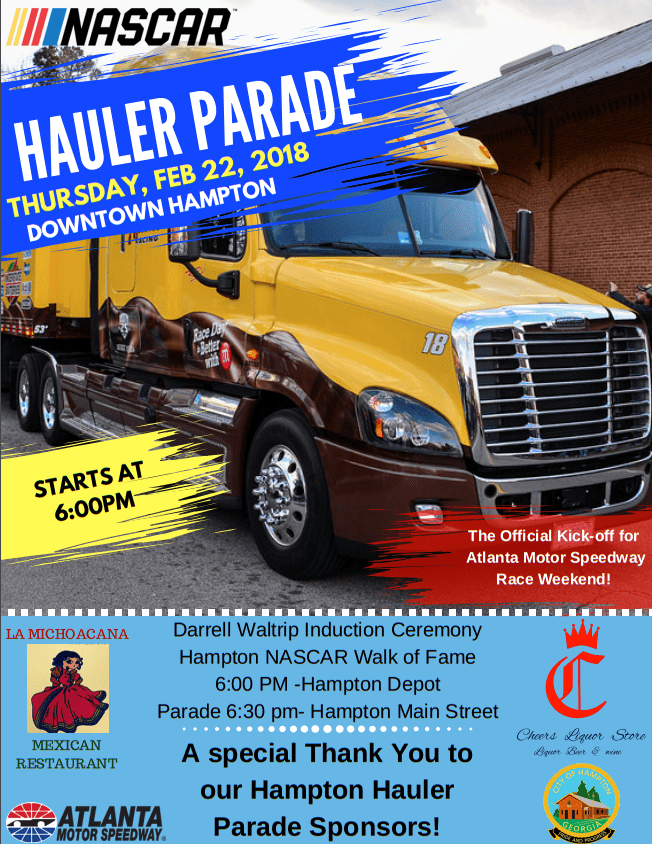 NASCAR fans, get your engines revving because you don't want to miss this! The Hampton NASCAR Hauler Parade is coming up February 22nd at Depot Park! The festivities will begin with the Darrell Waltrip Induction Ceremony and NASCAR Walk of Fame at 6pm at the Hampton Train Depot Park (20 E Main St). The parade will begin at 6:30pm through Downtown Hampton along Main Street. Did we mention this event is FREE?!
Parade Route:
Richard Petty Blvd to Georgia GA-20

Left turn on to E. Main Street and travel through Downtown Hampton

U-Turn at Amah Lee road and travel back through Downtown Hampton on W. Main Street to Woolsey Rd.
Left on Woolsey Rd.
Right turn on Turnipseed Rd. Re-enters at Gate G

The Hauler Parade is the official kick off for race weekend at the Atlanta Motor Speedway each year. The weekend begins with Qualifying Day on Friday, February 23. This action-packed day will set the field for Sunday's race. (Grab your tickets here.) Saturday, February 24 is a double header with the Rinnai 250 and the Active Pest Control 200 benefiting Children's Healthcare of Atlanta. This day will be full of on-track action including 450 miles of racing! (Grab your tickets here.) Sunday, February 25 is the Folds of Honor QuickTrip 500. This race brings NASCAR's biggest names (Chase Elliott, Ryan Blaney, Jimmie Johnson, Kyle Busch and Brad Keselowski to name a few) to AMS, with 450 miles of racing! (Grab your tickets here.)
Visit the Hauler Parade event page for photos from last year's parade, and download the map for this year's event. The City of Hampton is always looking for volunteers for their events. If you are interested in being a volunteer, fill out the Volunteer Application Form and return it to Denise McKay, Main Street/Economic Director, at the Train Depot.