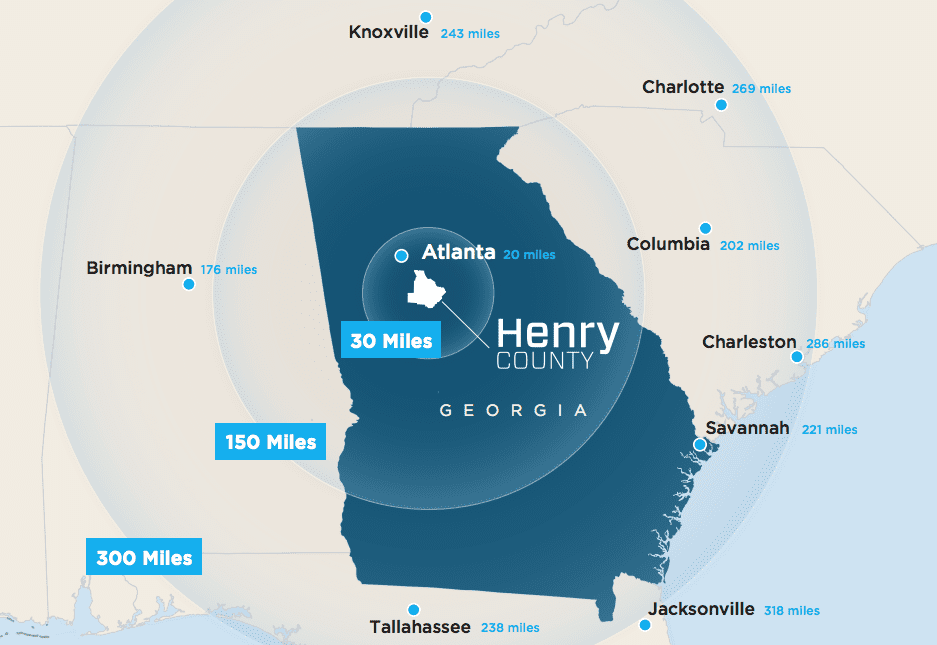 Regional, national and international companies alike are choosing Henry County, Georgia as their base of operations in Metro Atlanta and the Southeast. We want to share with you a few reasons why it's time to start, relocate or expand your business in Henry.
Today's competitive global marketplace demands that companies seek a location that will provide a qualified and available workforce. Henry County meets the most critical workforce needs by supplying an area labor force of 750,000+ workers and attracts the best that Georgia has to offer with several of the nation's most renowned universities and technical schools located less than an hour's driving distance. With one of the largest college and career academy programs in the state and abundant higher education opportunities, Henry has talent!
Henry County is minutes from Atlanta and the Hartsfield-Jackson Atlanta International Airport, the world's busiest. According to Forbes, the Hartsfield-Jackson airport processed more than 100 million passengers, nearly 285,000 travelers per day, in 2017. This is the 20th consecutive year that the airport has hosted more passengers than any other airport on the planet (USA Today). It could be because ATL is strategically located, with 80% of the US market less than a two-hour flight away.
Henry County offers the Atlanta Metro's best access to the Port of Savannah. Henry is a three hour drive from the Port of Savannah, one of the country's fastest-growing seaports and the largest single container terminal in North America. The Port of Savannah is the second-busiest US container exporter, following just behind Los Angeles.
A well-educated workforce, reasonably priced land, favorable taxes, and an advanced logistics and transportation infrastructure have convinced many to locate or expand. From retaining local companies to fostering new relationships and opportunities with companies looking to relocate or grow their operations into Henry County, the HCDA is connecting business in Atlanta's new south to the world!