Piedmont Henry Hospital: At the Heart of Wellness for Henry County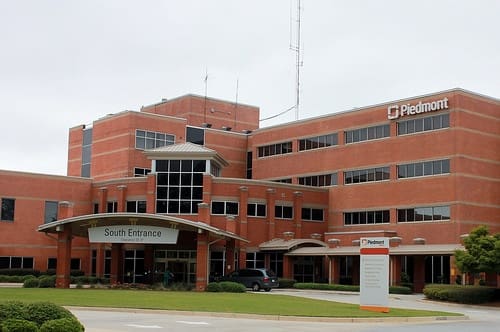 The Henry County Development Authority is a proud partner of Piedmont Henry Hospital in Stockbridge, a 215-bed, not-for-profit, hospital that provides leading edge technology and excellent care in cardiovascular services, orthopedics, surgery, critical care, women's health, emergency care and diagnostic imaging. This hospital is a catalyst for the rapid expansion of healthcare in Henry County. Because Piedmont Henry is filled with medical professionals who are leaders in their fields, residents and visitors have access to the finest care for their healthcare needs.
This full-service hospital has numerous clinics and community services as well, offering complete diagnostic care including nuclear medicine, mammography, X-ray, bone density scanning, upper gastrointestinal series, ultrasound, MRI and CT scanning. Their qualified surgeons perform sophisticated surgical procedures that utilize today's newest evolving technology, and also have an Ambulatory Surgery Center on site.
Piedmont Henry Hospital recently won the 2015 Leapfrog Top Hospital Award! CEO Charlie Scott accepted the award on behalf of the hospital. This award recognizes hospitals who share Leapfrog's vision of providing the safest, highest quality health care. Piedmont Henry was the only facility in Georgia to be named among the Leapfrog Top Hospitals.
Want to help give back? They are always looking for more volunteers. Duties include escorting patients, assisting with directions, clerical work, and giving measures of comfort.

At Piedmont Henry, they're not just focused on getting you better – they're committed to keeping you well with educational programs and outpatient care!
Sources: