Just 25 miles south of Atlanta, Atlanta Motor Speedway is one of the country's top sports, corporate, family and entertainment facilities. Situated on nearly 900 majestic acres in Henry County, Atlanta Motor Speedway is one of the most-storied facilities in American motorsports history (Visit Henry). Since holding its first race in the 1960, the Atlanta Motor Speedway has become a premier facility for multiple forms of racing in addition to a wide range of other events which have included concerts, family gatherings, business conventions and the Georgia State Fair. Races held at AMS draw more visitors than any other sporting event in Georgia. And because Hampton is home to AMS, they receive more visitors each year than any other city in Henry County!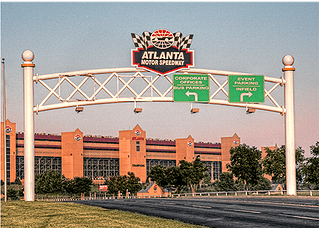 NASCAR fans rejoice! More than 30 NASCAR Sprint Cup Series Haulers, the large, colorful trucks carrying stock cars to and from the track, will roll down Main Street Hampton on March 2, 2017. The excitement begins at 6:00 PM at the Hampton Train Depot Park with the Hampton Speedway Lane Hall of Fame induction ceremony. After the induction ceremony, the Haulers (the big 18 wheelers that carry the racecars) will start rolling down main street to Highway 81 and across to the Atlanta Motor Speedway.

NASCAR returns to the speedway on March 5, 2017 for the Folds of Honor QuickTrip 500. The Folds of Honor QuikTrip 500 is a Monster Energy NASCAR Cup Series stock car race that's sponsored by QuikTrip, along with the nonprofit organization Folds of Honor. It's the second race of the Monster Energy NASCAR Cup Series. AMS also hosts Thursday Thunder and Friday Night Drags, along with car shows, including the Summit Racing Equipment Atlanta Motorama – the must-see car show event of the year!
Learn more about what's happening in Hampton, Georgia at ChooseHenry.com.