Register for HCDA's Next Business Luncheon on Social Media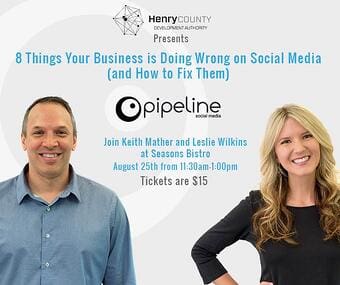 The Henry County Development Authority invites all business owners to attend our second in a series of four business luncheons!  Our second business luncheon in Henry County will take place on August 25th at Seasons Bistro from 11:30 AM – 1 PM. The topic will be "8 Things Your Business is Doing Wrong on Social Media (and How to Fix Them)."  The luncheon will be led by Leslie Wilkins and Keith Mather of Pipeline Social Media. Tickets for the luncheon cost $15 per person and can be purchased by following the registration link located at the bottom of the page.
Social media is becoming a key player. Years ago, social media was a mystery to businesses and consumers alike, but now, it is a powerhouse.. From connecting with your audiences to making sales, social media is a vital necessity for businesses today.
The social media landscape can be very tricky and our next business luncheon can help you navigate your business' social media presence better. Leslie Wilkins and Keith Mather, of Pipeline Social Media, will discuss 8 things you might be doing wrong on social media. But don't worry! They will also tell you how you can solve those mistakes.
Pipeline Social Media is a full-service social media marketing agency that enables their clients to expand their digital impact and customer loyalty by combining unique content strategies and advertising campaigns. The best part is that they are located right in Henry County, Atlanta's New South.
We hope that you will attend  learn not only from Pipeline, but from other business owners as well. If you wish to learn more about Pipeline and their services, visit their website, or contact them at 678-814-1601.