Strategic Industries Locate In Henry County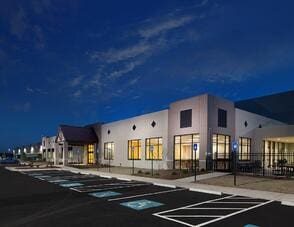 Henry County has been proactive over the last couple of years in studying which strategic industries are the best fit for the community. The Henry County Development Authority has worked with professional consulting firms to identify areas of strength and opportunity. Four key industry sectors emerged from this analysis: advanced manufacturing, health care services, logistics and supply chain, and professional services.
Henry County already has an impressive presence of advanced manufacturing companies, including Alpla, Southern States, Ken's Foods, and Toppan Interamerica. Our community exhibited strong growth in plastics and rubber products over the last decade, increasing almost 250 percent. Growth in medical equipment and supplies manufacturing has also been strong, adding over 200 new employees in recent years.
The availability of water resources underpins the potential for additional manufacturing activity.  The county enjoys a water surplus, with current capacity projected to support at least 30 years of growth in the county. Additional assets include availability of a high quality workforce, fully served industrial sites and buildings and access to local and global markets through transportation networks that connect Henry directly to metro Atlanta, Hartsfield Jackson Atlanta International Airport and the Port of Savannah.
We define health care services to include hospitals, clinics, wellness centers and medical laboratories. Beyond medical care and diagnosis, health care  encompasses the "business side of health services," as it involves the application of health innovation to the marketplace.
Between 2001 and 2011, employment in health care services in Henry almost doubled (98.9 percent growth), adding over 2,000 jobs to the local economy. During the same period the national sector expanded by 28 percent. We expect to see increasing demand in this sector over the next couple of decades due to growth in the region's senior population, as well as strong projections in overall growth.
Henry's residents and visitors enjoy some of the finest health care services in the Atlanta region courtesy of Piedmont Henry Hospital, a full service, 215 bed, not for profit community hospital that is fully accredited by the Joint Commission on Accreditation of Healthcare Organizations.
Many of the critical site selection factors associated with logistics are present in Henry County, including access to major markets and roadways, proximity to a major freight airport and a major freight port, and existence of utility served sites. Twenty miles of Interstate 75 run through the county with seven interchanges. Interstate 675, which provides easy access to Interstate 85 and Interstate 20 via I285, begins in the northern part of the county. We are less than two days' driving time to 80 percent of the U.S. population, 20 miles south of Atlanta, just minutes from Hartsfield Jackson — the world's busiest airport — and within three hours of the country's fastest growing seaport in Savannah.
Henry County's professional services target reflects the continued ascendance of service and knowledge based economic sectors in the U.S. economy. Customer care, business services and information technology have been identified as holding high value for Henry County.
Strong employment gains were made over the past decade in administrative and support services (70.1 percent growth) and professional and technical services (44 percent). Despite the recession's acute national impact on financial markets, sectors related to finance and insurance experienced growth in Henry County over the 10 year measurement period. Henry's reputation for offering strong quality of life amenities, reasonable cost of living, and top rated public schools is undoubtedly an asset in attracting employees for management, business and financial occupations.
Henry's newest addition to this sector is TSYS, a global payments company headquartered in Columbus, GA.
From the Atlanta Business Chronicle – July 3, 2015
By: Charlie Moseley