Valentine's Day in Henry County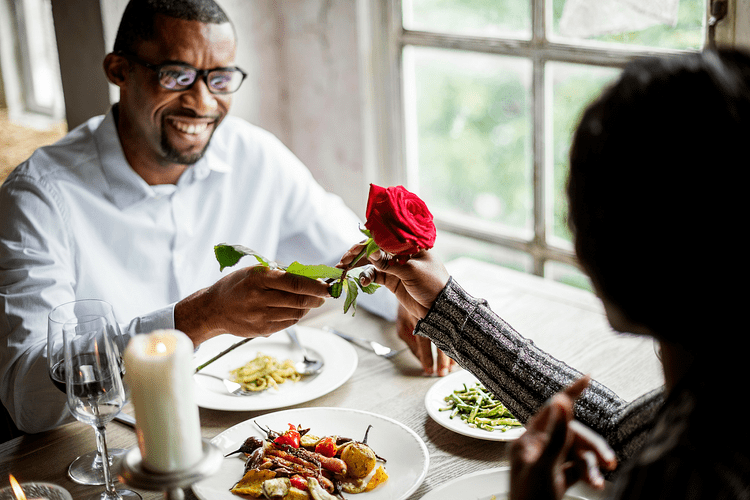 Valentine's Day is less than a month away, so you better start planning! Sure, you could drive 45 minutes to downtown Atlanta on a weeknight. Why do that when you can enjoy a romantic night out right here in Henry County? We're here to help by sharing just a few of our favorite spots, but it's your job to make the reservation!
French Market & Tavern, Locust Grove
The French Market is South Atlanta's hottest casual dining spot featuring an eclectic mix of Southern and New Orleans cuisine. Start with a glass of wine and Fried Green Tomatoes, enjoy a filet or Shrimp & Grits for dinner, and indulge in a slice of Butter Pecan Pie for dessert (with two spoons). You can even pick up a gift for your special someone while you're there.
Dulac's Bow Tie Chef Cafe', McDonough
Receive the royal treatment from the Bow Tie Chef himself when you dine at Dulac's. He is preserving southern traditions and upgrading them with a twist! The Brown Sugar Glazed Salmon, Vintage Wedge Salad, and Salted Caramel Cake make for the perfect Valentine's dinner.
Pasta Max Cafe, McDonough
Pasta Max Cafe offers the intimate atmosphere you're looking for this Valentine's Day. Not to mention personal & attentive service and delicious food. Choosing Pasta Max for a date night is easy. The hardest decision is whether to pick pappardelle, penne, or angel hair. Share a cup of coffee and the Creme Brulee for dessert! (And don't skip out on their garlic rolls; just remember to bring some breath mints.)
Italian Oven, Stockbridge
The Italian Oven is the perfect spot to woo your Valentine! Italy is the place of love after all. Start with some Calamari before ordering your alfredo or masala. Go with house or caesar; they're both amazing. (If you really want to be romantic, share the spaghetti and meatballs like Lady and the Tramp.)
Tierra Mia Mexican Restaurant, Hampton
If you're feeling a little spicy this Valentine's, then take your date to Tierra Mia in Hampton. They are a family-friendly Mexican restaurant but with an upscale feel. We recommend their Azteca Chicken, along with the Sopapillas for dessert. And starting with cheese dip or guacamole is a must!
Want to stay in? Attend a class at Olive In A Bottle – Locust Grove and learn from the best. You'll learn all you need to know to whip up a fabulous meal for your special Valentine. They offer monthly cooking demonstrations for those of us that need a little extra help in the kitchen. Their next event is January 27 and involves Moroccan food.
Be sure to follow each of these restaurants on their respective social media channels to be on the lookout for special meals and deals this Valentine's Day. Cheers to love and good food!