Why Companies Should Choose Henry County, Georgia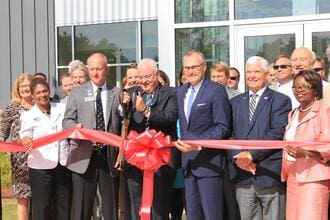 Our mission for economic development in Henry County is not just about short term job creation and investment; it's about building a foundation of competitiveness for the future. We are working with our partners in government and business to lay the groundwork for growth.  We believe the most critical pieces of this foundation are workforce, infrastructure and inventory.
TALENT
Today's competitive global marketplace demands that companies seek a location providing a qualified and available workforce. Henry County meets those most critical needs by supplying an area labor force of more than 725,000 skilled workers.
Henry County has built real momentum in workforce development infrastructure in the last couple of years with the construction of Southern Crescent Technical College's new Henry Campus facility and the expansion of the Academy for Advanced Studies, Henry County's Career Academy. The academy offers high school students the chance to focus on real world career pathways, including advanced manufacturing; energy and power generation, distribution, and transmission; supply chain management; information technology; and automotive technology.
Henry County is home to several institutions of higher learning, including Mercer University, Gordon State College, DeVry University and the University of Phoenix. At Mercer's Henry campus, more than 700 working adults pursue undergraduate and graduate degrees through the Stetson School of Business and Economics, the Tift College of Education and Penfield College.
LOCATION
Henry County is ideally situated for companies needing great access to both the Port of Savannah and Hartsfield Jackson Atlanta International Airport. Henry has the best access to Savannah of any metro Atlanta community and sits just 15 miles south of the airport — all this while offering access to the kind of human and intellectual capital that's abundant in metro Atlanta. Henry's eight major interchanges along Interstate 75 and direct service to Norfolk Southern rail means that companies can reach 80 percent of the U.S. market within a two day truck drive or a two hour flight.
These infrastructure advantages will be especially important as the Port of Savannah completes the harbor deepening project. Already the nation's fourth largest container port and the fastest growing, Savannah continues to see increased activity. When coupled with the Panama Canal widening, the economic impact of these projects for Georgia and Henry County will be tremendous.
In order to prepare for this growth, Henry County is actively pursuing additional interchange and intermodal infrastructure. We are particularly excited about GDOT's managed lanes program, which is scheduled for completion in early 2017. This project will stretch along Interstate 75 between SR 155 and SR 138 for close to 12 miles. According to GDOT, the project includes the addition of two reversible express lanes located within the median of I75, to be managed by a variably priced tolling system.
INVENTORY
Since 1994, Henry County's industrial inventory has grown from roughly 2 million square feet to nearly 30 million square feet. We have several designated industrial parks — and new ones coming online — many with direct rail served sites and all with great access to I-75. Henry County is even experiencing spec development for the first time in many years. Three new buildings are currently under construction, all over 700,000 square feet. Beyond industrial, the northern part of the county has ample class A office space in close proximity to Piedmont Henry Hospital and Hartsfield Jackson, making it an ideal location to meet a company's professional solutions or healthcare needs.
By: Geoffrey Cauble, Chairman of the Henry County Development Authority Board of Directors
From the Atlanta Business Chronicle – July 3, 2015
View full article
Learn More About Henry's Strategic Advantages
Search Available Properties