Henry County Development Authority 2020: An Economic Catalyst During A Global Pandemic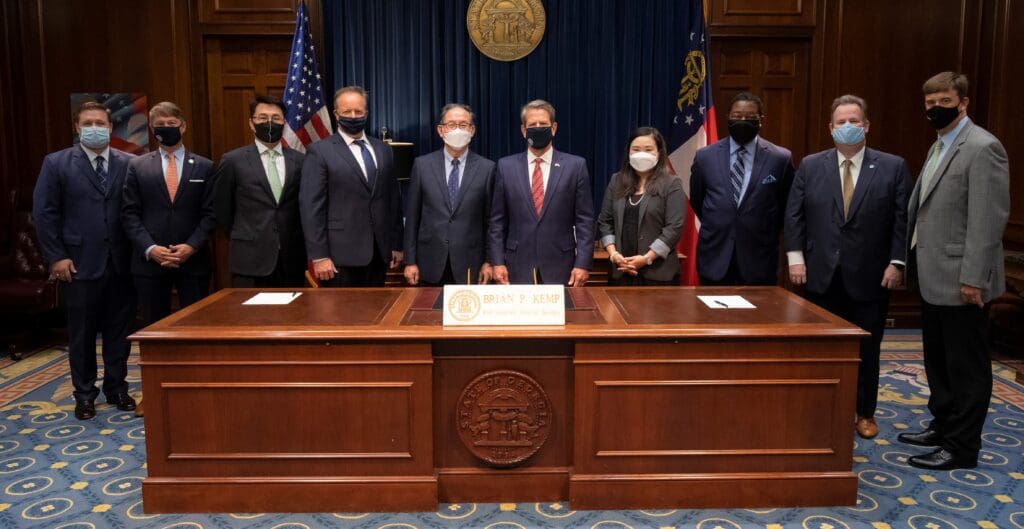 McDonough, GA – 2020 was a record-breaking year for investment and growth in Henry County, Georgia! In a year that was severely impacted by COVID-19, The Henry County Development Authority (HCDA) helped established businesses to retain and expand their footprint, welcomed several new companies and announced eclipsing $1 billion in investments and 6,560 new jobs over the previous 5 years.
ECONOMIC GROWTH BY THE NUMBERS:
2,640 new jobs
10 new projects and expansions
$451 million new investments
$1 billion dollars in investments over 5 years
6,560 new jobs created over 5 years
Henry's record setting economic success is not expected to slow down anytime soon. With the announcement that Ken's Foods will invests $103 million to expand its McDonough, Henry County operations, NASCAR announcing the addition of a second race weekend at Atlanta Motor Speedway and the opening of the Dole Packaged Foods facility, Henry County is establishing itself as a major destination for business attraction in Metro Atlanta.
"Henry County experienced unprecedented economic growth and diversity in its jobs and investment attraction in 2020. HCDA has purposely diversified its targeted industry attraction to include manufacturing, technology and international companies that can leverage the county's strategic location, first class logistics network and skilled workforce to accomplish their business objectives. Our community takes pride in being home to business operations that support economies locally and around the globe," said Pierre Clements, Chairman of the Henry County Development Authority. "We have all experienced the impacts of COVID-19 over the past 10 months, however, it is great to see our new and established industry companies continue to see the value of our community and commit to record breaking investments and jobs. Henry County is well positioned for growth and will continue to play a major role in helping companies reach their business goals."
Several award-winning advanced manufacturing companies, including Alpla, Luxottica, and Sangsin Technology America, call Henry County home. One of the newest additions to Henry's Advanced Manufacturing cluster is technology company Purple Mattress. Governor Brian P. Kemp announced in July 2020 that Purple Innovation, Inc. ("Purple"), had selected Henry County for their third U.S. manufacturing facility. Purple plans to make a $21 million investment in a 520,000-square-foot facility, delivering 360 jobs to the area.
Henry County has also become a preferred community for global commerce with foreign based companies like Alpla, Ferrero, HELGA, Luxottica, Viega and now Zinus, USA. Zinus, a Korean based manufacturer, selected McDonough, GA as the site of its first North American advanced manufacturing facility in August 2020. The company will invest $108 million and create 804 jobs in Henry County. Zinus has several distribution centers across the U.S., but the McDonough facility marks the company's first U.S. manufacturing facility.
These projects are just a highlight of Henry's recent economic success. HDCA successfully assisted 10 companies to relocate or expand in Henry County in 2020, representing industries including technology, food and furniture to name a few. These new and established industries will employ more than 2,640 people and invest $451 million into the local economy. Looking ahead to a new year, the Development Authority expects to see continued growth in industry sectors such as advanced manufacturing, technology professional services, healthcare and logistics.
"2020 was a record-breaking year for our community for business growth and job attraction. We would like to thank our new industries for choosing Henry County," said HCDA Executive Director F. J. "Josh" Fenn. One of our best marketing points is that our Established Industries continue to reinvest in Henry County and 2020 was another great year for expansions by our long-time customers. Henry County is always grateful for these businesses that continue to choose Henry. We look forward to another good year in 2021 for Henry County's growth and prosperity, as we move to take our place as, the economic center of the Metro Atlanta South Region."
About the Henry County Development Authority
As the lead economic development agency for Henry County, the Development Authority works to help retain local companies and to foster new relationships and opportunities with companies looking to relocate or grow their operations into Henry County. Learn more and connect with the HCDA team by visiting ChooseHenry.com.