June Business Luncheon Was a Huge Success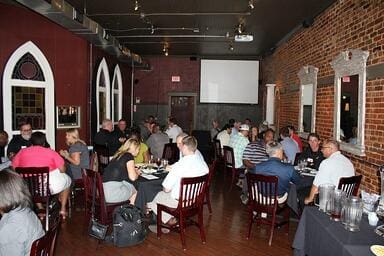 The Henry County Development Authority's June Business Luncheon was a success! Thank you to all who joined us for a delicious lunch and thought-provoking talk. If you missed our June luncheon, we will be hosting our next luncheon on August 19, 2015. Stay connected with us on social media to be the first to know when registration is open for our August event!
We hosted the June Business Luncheon at Seasons Bistro on the square in McDonough. Chef Sam Pagan prepared delectable chicken salad sandwiches and also served his amazing Death by Chocolate Cake. Over 40 people attended the luncheon and enjoyed the atmosphere, company, and nice setting. Representatives from Clayton State University, Mercer University, Clayton Signs, and other local businesses attended our luncheon.
One of our favorite things about our recent event was that we were able to meet a lot of people who were not familiar with what we do, so we were glad to meet new faces and connect with even more people in our community.
Our speaker was the successful entrepreneur Lon Langston, and he spoke on "Why Luck Matters in Business, But Not in the Way You Expect." Langston discussed how business owners can leverage their good luck, while mitigating their bad luck. Lon spent 16 years in management before launching his own start-up company in 2006. In just five years, he successfully grew his company from zero revenue and zero employees to over $21 million in revenue and 64 employees. This past October, in his company's 11th year, Lon was able to negotiate a successful sale of his company. Now, Langston focuses his efforts on helping others achieve significance.
We would like to thank Chef Sam at Seasons Bistro for letting us host our luncheon at his  wonderful restaurant! Be sure to join Seasons Bistro for one of their signature meals and live weekend entertainment, open Thursday through Sunday. To learn more about the restaurant, visit Seasons Bistro's website.
If you enjoyed hearing Lon Langston speak, feel free to reach out to Lon to ask about one-on-one business coaching. Contact him at 770-314-2857 or Lon@Langston.net.